SURFING Magazine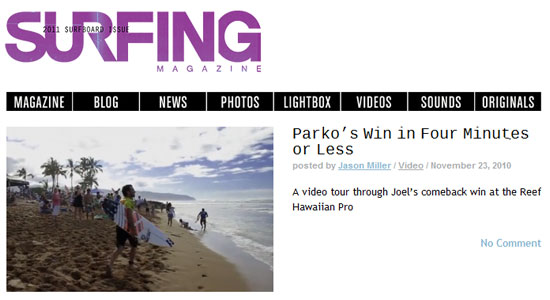 Client: SURFING Magazine
Company: SURFINGMagazine.com
Details: XHTML, CSS, jQuery, WordPress
Descriptions: SURFING Magazine's conversion to one CMS, WordPress 3.0. In the months leading up to the redesign, the site relied on 3 different platforms with multiple subdomains. The goal was to remove all subdomains and house the site in one directory.
Solutions: WordPress to the rescue. Again. After converting over 4,000+ articles through XML feeds and databases, the site now boasts a much easier to use publishing platform and a simplied, emphasis on content design.
We added some flair to the logo by adding jQuery fade in and fade out action. Conversion of a 3 column layout to a much more simplified 2 column layout—which increased the content area by about 25%. We added new search features and filters. Larger thumbnails. CSS3 @font-face typography. New Image galleries. Image modals. A new Media Kit. Centered design.
Working with SURFING Magazine's Editors, Art Directors, Photographers, and digital group; it truly was a team effort. Great to see how the final product came out.